Long Island Brain Injury Lawyer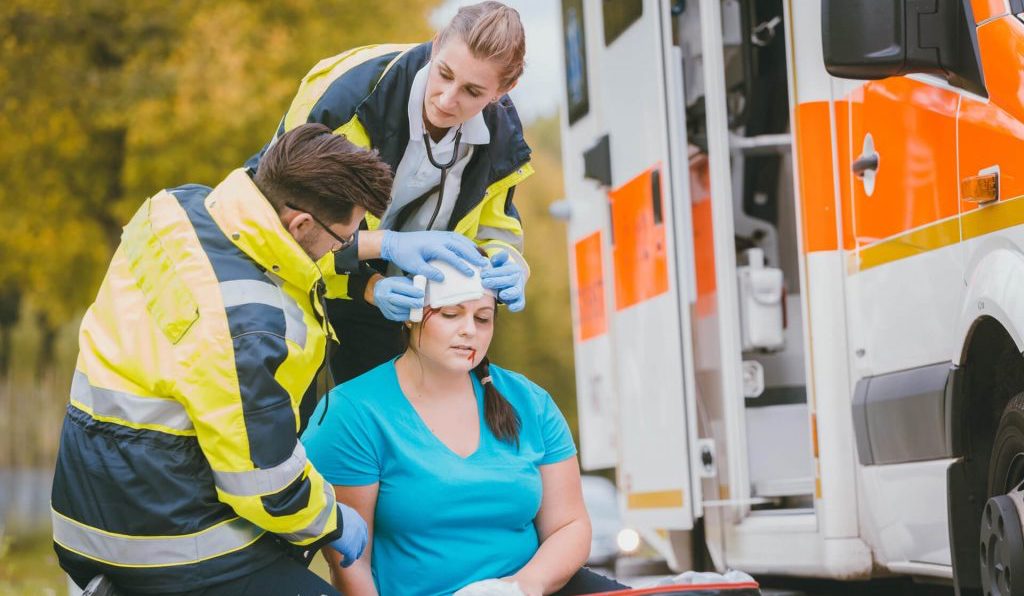 Experienced Long Island Brain Injury Lawyer Representing Clients in Suffolk County, Nassau County, Queens, and Throughout NY
About 1.7 million Americans suffer a brain injury every year. There are about 275,000 admissions recorded every year related to brain injuries and 52,000 deaths annually. 125,000 people suffer permanent disabilities as a result of brain injuries according to the Centers for Disease Control and Prevention. If you or a loved one has suffered a brain injury as a result of someone else's negligence, you may be entitled to compensation. An experienced Long Island brain injury lawyer from the Harrison Law Group, P.C. can provide you with the guidance and support you need.
At the Harrison Law Group, P.C. we're committed to fighting on behalf of injured victims in New York. We've been defending their rights for more than 30 years. Our attorneys are highly skilled and experienced in representing personal injury victims. We have a track record of obtaining significant settlements and verdicts for brain injuries. We will fight to recover maximum compensation in your case too.
Contact us now to discuss your case with an experienced Long Island brain injury lawyer from our firm. Our attorneys are compassionate but will defend you aggressively to recover any and all damages that you are eligible for. 
What is a Brain Injury?
Brain injuries are defined as any damage that occurs to the brain. They can be caused by external or internal trauma. Brain injuries vary in severity. At the Harrison Law Group, P.C., we've handled cases with a wide range of brain injuries. These include:
Concussions – These occur when the brain is forced back and forth within the skull. It is a closed brain injury as the skull is not penetrated. Many people that suffer concussions are able to recover over time.
Stroke – this is a condition that affects the blood vessels within the brain and leads to the brain. It results in the brain being starved of nutrients and oxygen. Doctors are trained to recognize and act quickly when a stroke occurs. Failure to do so can result in a medical malpractice lawsuit
Birth injuries – birth injuries can result in brain injuries. Healthcare professionals may make mistakes that cause harm for the baby before, during, or after birth resulting in brain injuries.
Penetrating brain injuries – these are brain injuries that occur as a result of a foreign object piercing the skull and causing damage to the brain tissue. Surgery may be required to correct the damage. However, many people that suffer these types of brain injuries experience permanent effects.
Brain injuries should never be taken lightly. These injuries can place significant economic, emotional and psychological strain on the victims and their loved ones. We at the Harrison Law Group, P.C. will fight to recover maximum compensation and get justice for your injuries.
Traumatic and Non-Traumatic Brain Injuries
There are two types of brain injuries, traumatic and non-traumatic injuries, the differences are as follows.
Traumatic Brain Injuries (TBIs)
These are brain injuries that are the result of a blow to the head that results in a disruption of brain function. That means that not every blow to the head results in a traumatic brain injury. Also, the level of a TBI ranges from mild to severe; a concussion is an example of a mild TBI, though it can have serious consequences. A blow that causes a brain hemorrhage is a more serious TBI. Regardless of whether the TBI is mild or severe, the injured person must get medical treatment as soon as possible. The following are some of the more common causes of TBIs:
Sports accidents
Gunshot wounds
Assault
Physical abuse
Non-Traumatic Brain Injuries
Also called acquired brain injuries, these types of brain injuries are not caused by a physical force to the head. Instead, they are caused by internal disruptions like a lack of oxygen or a brain tumor. Non-traumatic brain injuries affect the brain cells directly unlike TBIs. That means that it is possible for the effects of a non-traumatic brain injury to spread to different areas of the brain whereas the effects of a TBI are usually localized at the region where the impact took place. Some causes of non-traumatic brain injuries include the following:
Drug abuse
Stroke
Infectious diseases like meningitis or encephalitis
Electric shock
Exposure to toxic substances
The Effects of a Brain Injury
The effects of a brain injury depend on the seriousness of the injury. A relatively mild brain injury, like a concussion, can cause dizziness, disorientation, temporary memory loss, and headaches. The effects can disappear in a few weeks but in some cases, the effects of even a minor brain injury can persist for months or even years. The consequences of a serious brain injury are far worse, and in many cases, irreversible. A serious brain injury can have negative effects on a person's cognitive ability and could cause problems like the following:
Memory problems – Namely problems with short term memory that makes it difficult for them to remember new information.
Lower concentration span
Aphasia and other language problems
Problems processing information
Impaired visual perception – This could be any number of problems from face blindness to trouble following directions to difficulty making out pictures and shapes.
A brain injury could also cause emotional and behavioral problems as well. This happens if the part of the brain responsible for controlling emotions and behavior was damaged. If it was, then it could lead to the following problems:
Impulsiveness
Disinhibition – Otherwise known as acting out, in other words, the injured person may engage in behavior that is considered to be rude or tactless or they may react angrily to stimuli that don't warrant that reaction. They may also behave in overtly sexualized ways at inappropriate times. Some people may eventually regain control of this kind of behavior but others may need outside help to keep them in check.
Apathy
Egocentric behavior
Obsessiveness
Increased irritability, impatience, and hostility
Personality changes
The cognitive and emotional effects of a brain injury can be extremely serious, but worst of all is when the injured person feels nothing at all. That happens when the injured person falls into a coma or a similar state of reduced awareness. It is possible to recover from a coma, but there could be long-term effects like amnesia or changes in behavior.
The Harrison Law Group Will Help All of Our Brain Injury Clients
The effects of a brain injury are difficult to endure, both for the victim and those close to them. It can lead to behavioral changes, cognitive problems, and can even leave the victim in a coma. That is why it is extremely important that brain injury victims be able to get the compensation they need to cover their medical expenses.
Many brain injury victims will need to be rehabilitated. That can be expensive but at the Harrison Law Group, we will fight to make sure that our clients get a settlement amount that can cover all of their needs. So if you or someone close to you has suffered a brain injury that was caused by the negligence of someone else, get in touch with us and a Long Island brain injury lawyer will do everything they can to help you.
Contact the Harrison Law Group, P.C. to Consult with an Experienced Long Island Brain Injury Lawyer for Free
Dealing with the consequences of a brain injury isn't easy. If you or your loved one suffered a brain injury as a result of the actions of another person's negligence or reckless actions, you may be eligible for compensation. Don't hesitate to contact the Harrison Law Group, P.C. Schedule an appointment to speak with an experienced Long Island brain injury lawyer from our law firm. Our attorneys have successfully recovered millions of dollars in compensation for victims of brain injuries. We will review your case to determine whether you have a valid claim. We will ensure that you understand your rights and options so you can make informed decisions.
Get in touch with the Harrison Law Group, P.C. today and schedule your free no-obligation consultation. We'd be happy to discuss your case with you.
Frequently Asked Questions about Brain Injury in New York
How long do traumatic brain injuries last?
Traumatic brain injuries often improve within hours or days. However, this depends on the severity of the brain injury. For a concussion, for example, symptoms can resolve within days or a few months. Those suffering from more severe brain injuries may experience symptoms for longer and may even require medical treatment. There are patients whose cognitive and physical abilities are affected as a result of traumatic brain injury. In these cases, they may require specialized neuropsychological, speech, physical or cognitive therapy. Some people with severe brain injuries are unable to regain their pre-injury mental and physical abilities. These people often require long-term care.

It is important that you seek the guidance of an experienced Long Island brain injury lawyer right from the start. We at the Harrison Law Group, P.C. work with experts in health care and long-term care. We will work to determine your prognosis and how it will affect your life in the long term. We will fight to ensure that recover adequate compensation to secure your future and that of your family.
How long do I have to file a brain injury lawsuit?
There are strict time limits for filing brain injury lawsuits. The statute of limitations for filing claims for personal injuries in New York is 3 years. This period starts from the date that you were injured. If you fail to file your claim within this period, you risk losing the compensation that is rightly yours.

There are exceptions to the statute of limitations. If your brain injury for example was the result of medical malpractice, you will only have two and a half years in which to file your claim. If the victim of the injury was a child, they may be able to file a claim for compensation for their injury when they become an adult. The statute of limitations, in this case, will be postponed until they are adults. The clock will start ticking on the 18th birthday of the child.

If you've been injured, you should contact the Harrison Law Group, P.C. as soon as possible after your injury. Our lawyers will work with you to ensure that you don't miss any deadlines. We'll get started on your case right away.
★★★★★

Brett and Kristi are the best. Very professional. Any questions at any time weekdays or even weekends they always responded right away. When you become a client they treat you as if you are a family member of theirs. Brett will fight to get you the money you deserve from your lawsuit. I'm very happy with Harrison Law Group!! I highly recommend them.

Sofiarose G.