Long Island Construction Accident Lawyers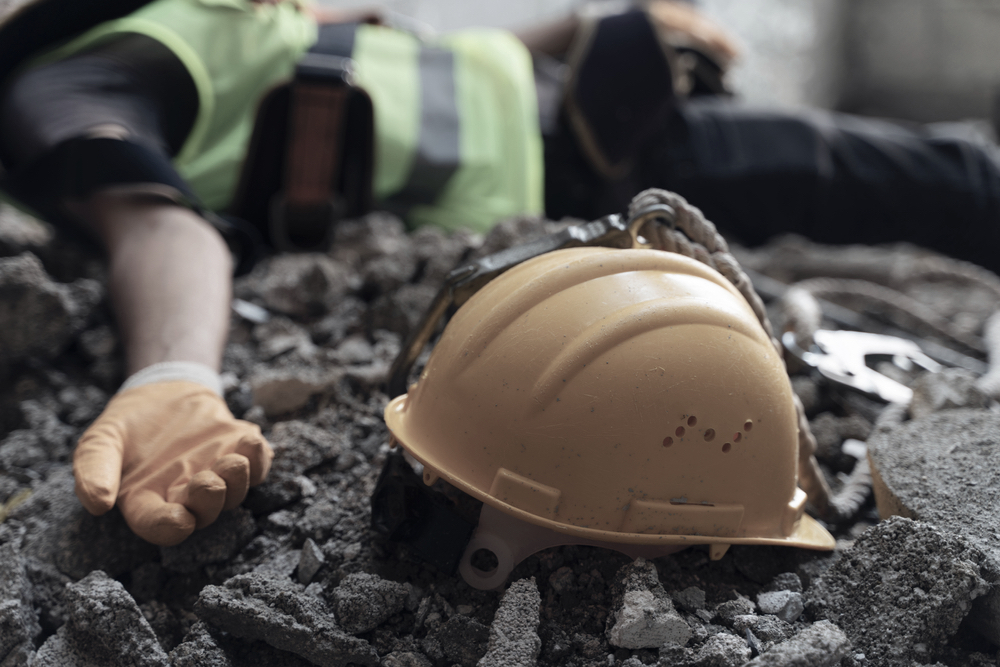 Skilled and Experienced Construction Site Accident Attorneys Defend the Rights of Injured People In Suffolk County, Nassau County, and Throughout Long Island
According to the Occupation Safety and Health Administration, one out of five work-related deaths occurs in construction. Construction workers face high risks each time they don their hardhats, and electrocutions, falls, being struck by objects, and being caught in between objects are deemed "The Fatal Four." The United States Department of Labor and New York Labor Law has outlined safety standards to help protect workers above all other concerns, but construction work zones are teeming with the threat of danger due to working with large machinery, at very high heights, and in high-stress environments. If you've been injured or a family member has died because they've been working on a construction site, then they may be entitled to compensation. It's important to contact a qualified New York construction accident lawyer when considering litigation.
Whether you were injured or lost a loved one in a construction site accident, you may be entitled to compensation. The attorneys at Harrison Law Group P.C. have been witness to just how devastating construction accidents can be to both the injured person and their loved ones. We've seen victims and their loved ones struggle to cope with the pain, psychological trauma, and financial burdens that these accidents can cause. We're committed to providing victims of construction accidents with the support and assistance they need. Get in touch with us for a free consultation with an experienced and skilled attorney. We will fight to recover maximum compensation on your behalf.
Types of Cases That an Experienced Long Island Construction Accident Lawyer Can Assist You With
In the year 2018, there were more than 5,000 occupational-related deaths. Over 1,000 of those deaths were amongst construction workers that year. Often, construction workers have to work long hours for low wages, and under very high-stress circumstances. The attorneys at Harrison Law Group P.C. are experienced at handling a wide variety of construction accident cases arising from a number of different circumstances, including:
Machinery accidents: Cranes, forklifts, and other heavy machinery are equally as important to construction projects as the scalpel is to a surgeon. These humongous machines require training and focus to operate properly, and if someone is not attentive, or trained properly, it can lead to serious injuries.
Falls: Working from high heights on ladders, scaffolding, and roofing is essential to constructing a building. Over 33 percent of construction deaths are the result of falls.
Stress injuries: Construction work can be repetitive and could lead to injuries in the ankles, wrists, shoulders, and back. Some of these injuries could occur in soft tissue as well, which are harder to determine initially.
Exposure and Fires: Deadly gas leaks leading to fires and explosions can happen in the blink of an eye on a construction site. Additionally, toxic gases can leak into the air in confined spaces and harm construction workers.
Struck by accidents: Wearing protective gear will prevent some injuries, but due to the high volume of vehicles, tools, and machinery being used on any construction site, it's possible to be injured as the result of being struck by a vehicle or a falling tool.
Electrocutions: Electricity, new wiring, exposed wiring, and lightning are common occupational hazards in a construction area. Being exposed to high voltages of electricity can be deadly.
Collapses: When a trench or a piece of a construction site collapses it may trap workers beneath and lead to injuries.
Caught between: Limbs or an entire person can be stuck between objects leading to injuries or deaths.
Common Construction Site Injuries
Construction sites are amongst the most dangerous worksites there are. Employers are therefore required by law to take precautions and adhere to strict standards to make construction sites safer environments for those that work there as well as for those that visit the site. This includes providing those on the construction site with safety gear as well as proper training on safety procedures as well as working with heavy equipment. Safety violations or negligence can result in serious injuries, including:
Electrocution

Eye injuries, including impaired vision or blindness
Broken bones
Knee and ankle injuries
Burns
Neck, shoulder, or back injuries
Spinal cord injuries that could cause paralyzation
Illnesses caused by overexposure to toxic chemicals
Head injuries and brain damage
Slip, trip, and fall injuries
And more
Construction accident injuries can have a tremendous impact on your life and livelihood. Some accidents may even prove fatal. When these accidents occur it is important to seek the assistance of an experienced New York construction accident lawyer in order to hold negligent parties accountable and to collect the compensation you and your family rightly deserve.
We also provide representation for families that have lost a loved one in a construction accident. We will provide you with the guidance and assistance you need to get through this difficult time. We will fight to recover full compensation and hold those responsible for your accident to account.
Steps to Take After A Construction Accident In New York
Construction accidents can be devastating. However, the steps you take after the accident will have a big impact on the outcome of your case. It is therefore important to be aware of the steps you should take after a construction accident in New York.
Seek immediate medical attention; your health should your first priority. Whether you have suffered a minor or severe injury, it is important to seek immediate medical attention for your injuries. This will help you avoid complications and will ensure that there is a medical record of your injury.
It is important to note that some injuries aren't obvious right after they occur. It is therefore important to seek medical attention even when you think your injuries aren't serious. A medical examination will reveal injuries and ensure that you receive the right treatment in a timely manner.
Report the incident to your employer or the site supervisor; it is important to have a record of the incident. You should report the incident to your employer or the supervisor at the construction site. This should be done as soon as possible. The incident report will be vital as evidence for your claim. Be sure to request a copy of the incident report.
Consult with an experienced New York construction accident lawyer; it is important to get in touch with an experienced construction accident lawyer as soon as possible after your accident. Our attorneys will investigate the circumstances of your accident and identify the party or parties that can be held liable. We will gather evidence to build a strong case on your behalf.
Contact the authorities; construction accidents fall under the mandate of the Occupational Safety and Health Administration (OSHA). It is important to report the accident to the authority. The authority will investigate the incident and require your employer and the property owner to adhere to proper safety standards.
Compensation After Construction Site Accidents
If you've sustained an injury as a result of working on a construction site, it's essential to determine liability. It's possible that you may be able to file a lawsuit in addition to receiving workers' compensation. A personal injury lawsuit will allow victims to get compensation for their injuries and cover the following damages:
Medical expenses and fees
Wages lost because of missed time from work
Pain and suffering
Physical Therapy
Long-term care
Loss of quality of life
Loss of future income
If someone was killed because of a construction accident, then the family may be able to file a wrongful death lawsuit against the liable party. Wrongful death suits help families receive just compensation due to the death of a family member.
Workers' Compensation
When a worker is injured on the job they could be protected under the company's workers' compensation policy. Workers' compensation normally covers lost wages and medical bills that come as a result of being involved in an accident.
Worker's compensation operates under "no-fault" statutes, so the worker doesn't need to prove the company was at fault, to get assistance. Workers only demonstrate that they were injured on the job. Your eligibility in workers' compensation claims is dependent upon the severity of your injuries and your level of impairment.
Third-Party Lawsuits
It's possible that other companies are liable in your case. Take into consideration if sub-contractors, property owners, and other general contractors are at fault. Third-parties may be liable for a construction injury in the following cases:
A construction worker is injured while operating a motor vehicle designated for construction purposes. You may be able to file a suit against the other negligent party.
You're injured as of a result of using faulty equipment or machinery provided by a third party and therefore, entitled to damages. The manufacturer, retailer, or wholesale provider could be liable in this instance.
Your construction group was working under a subcontractor, that was hired by a general contractor, and their heedlessness led to your accident and injuries.
Third parties may not be liable in every construction work accident. However, the odds of you encountering a third party, while on the job, are high due to the frequency of your interactions. It's important to seek proper medical care, then speak with an attorney to determine your eligibility for a third-party lawsuit.
New York Labor Laws
Construction workers have rights under New York Labor Laws 200, 240, and 241. Section 200 states that contractors must do all they can to make workplaces reasonably safe. Section 240 specifies scaffolding regulations for scaffolding projects higher than 20 feet. Section 241 outlines specific details for construction, demolition, and excavation sites and the precautions that should be taken to protect workers. If you've been injured in a construction accident, speak with a group of diverse and attentive construction accident lawyers in Long Island, NY who will work diligently to support you and assist you in seeking retribution, and reimbursement, through litigation.
Contact Harrison Law Group to Book a Free Consultation with a Skilled Long Island Construction Accident Lawyer Today
Construction accidents often have catastrophic effects. The injuries suffered in these accidents can be life-altering. They may even result in the death of the accident victim. At Harrison Law Group P.C. we fight to uphold the right to compensation for those injured in construction site accidents. Our attorneys are skilled and experienced at dealing with employers and insurance companies. Contact us today to schedule a free consultation with a skilled and experienced New York construction accident lawyer from our firm. Learn about your rights as well as your options for recovering compensation. 
Frequently Asked Questions about Construction Accident Claims in New York
How long should I wait before contacting a New York construction accident lawyer?
It is best to contact an experienced construction accident lawyer as soon as possible after your accident. The sooner you contact your lawyer, the easier it is for the lawyer to collect evidence and build a strong claim on your behalf. It is also important to note that the statute of limitations for making a construction accident claim in New York is 2 years. The clock starts ticking from the date of your accident. it is, therefore, best to begin the process of recovering compensation as soon as possible.
What does it mean to settle a construction accident claim?
When you agree to a settlement for your construction accident, you will forfeit your right to press further charges for your accident. You can therefore not seek additional compensation for your injuries. This is why it is important to seek the guidance of an experienced New York construction accident lawyer to determine what your case is worth. If you have a severe injury, you will be required to wait until you have reached a level of maximum recovery to recover compensation. Your attorney will guide you on a reasonable amount to agree to as your settlement.
★★★★★

Brett and Kristi are the best. Very professional. Any questions at any time weekdays or even weekends they always responded right away. When you become a client they treat you as if you are a family member of theirs. Brett will fight to get you the money you deserve from your lawsuit. I'm very happy with Harrison Law Group!! I highly recommend them.

Sofiarose G.