Long Island Truck Accident Lawyers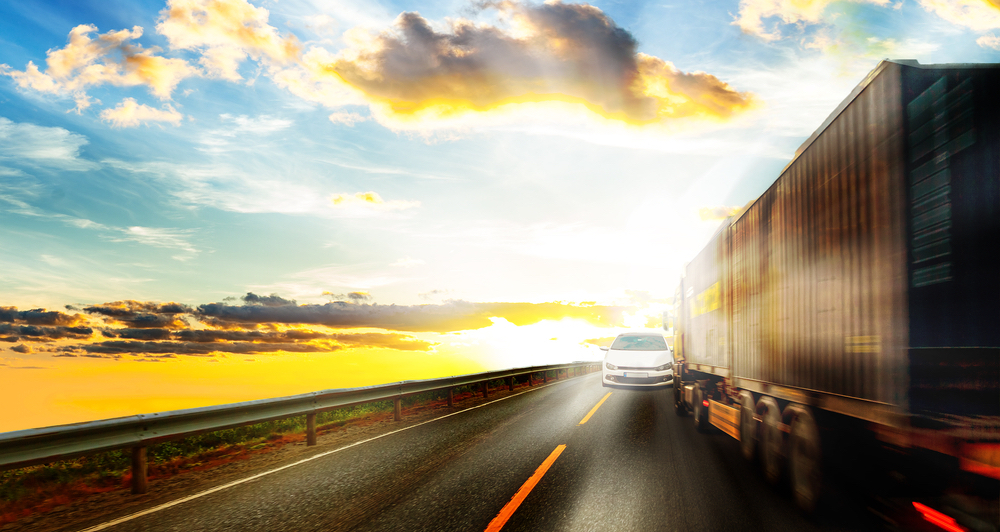 Top-Rated Truck Accident Attorneys Fight for Injured Victims In Suffolk County, Nassau County, and Throughout Long Island
With their massive engines and heavy loads, commercial trucks can weigh up to 40 tons, which makes them a unique danger on the Long Island roadways. Litigating commercial truck accident cases is substantially different than car accident cases. If you've been injured by a truck in NY, you need an experienced New York truck accident lawyer who has experience negotiating with large trucking companies, big businesses, and corporate insurers.
Truck accidents can result in severe injuries. Victims of these accidents face several challenges after the accident. These include accumulating medical bills, loss of income, a reduced capacity to work, or even the inability to return to work. These victims also have to deal with the pain and trauma that these accidents cause. Having an experienced New York truck accident lawyer guiding and supporting you can help to ease the burden and improve your chances of recovering compensation for your injuries.
The attorneys at Harrison Law Group are experienced and skilled in dealing with truck accident cases. We will evaluate your case and identify all the opportunities to maximize your compensation. With our guidance, you can avoid many of the mistakes people make when filing a truck accident claim.
Why Truck Accident Cases Can Be Complex and How a Long Island Truck Accident Lawyer Can Help 
Accidents involving trucks are different from those involving only two passenger cars. You are likely to run into many complexities when you file a claim to obtain compensation for a truck accident. There are various reasons that these complexities arise.
The laws that govern trucks and truck drivers are different from those that govern passenger cars and passenger car drivers. There are specific laws that govern truck and truck drivers. These laws are generally more stringent than those that govern regular motorists. These laws can make a trucking claim more complex. A knowledgeable attorney will have a good understanding of these laws. They will provide you with guidance on the best way to approach your case.
The injuries involved in truck accidents are often more severe than in accidents only involving two passenger vehicles. Severe injuries attract higher compensation than minor injuries. Trucks may also cause significant damage to property. There is therefore a lot of money involved in a trucking accident claim. Trucking companies and their insurance providers will work to minimize their losses. They will resort to all manner of tricks to get the amount owed to you reduced or to have your claim denied. Hiring an experienced attorney will help to improve your chances of recovering compensation. Your attorney will fight to recover reasonable compensation for your injuries. They won't be intimidated or tricked by trucking companies or insurance providers.
Trucking companies have their own systems in place to handle truck accidents; truck companies know their drivers are at high risk of being involved in an accident. They, therefore, have procedures in place to deal with these incidents. They may use these procedures to minimize their losses. An attorney will represent you when approaching the trucking company or insurance provider. They will ensure that your best interests are considered throughout the case.
There may be multiple parties involved; truck accidents often involve more than one party. You may be able to hold multiple parties responsible for your accident. For example, if the accident was a result of poor maintenance, you may hold the trucking company responsible for the accident. You may also be able to file a claim against the manufacturer of a faulty part or the municipality of New York for not maintaining the roads in good condition.
Why Commercial Trucking Accidents are More Dangerous
The two biggest factors in the severity of an accident are mass and velocity. Most vehicles are capable of traveling at relatively high speeds, including commercial trucks. Velocity and mass affect the energy transferred. Energy is directly proportionate to mass, so if you double the mass of one of the vehicles, it imparts twice as much energy. With that in mind, it's not unusual for a truck to have 10 – 20 times the mass of a car, which is why they're so devastating.
Commercial Trucker Requirements
Because of the enhanced danger that both trucks and their operators bring to the roadways, there are strict state and federal dangers that apply to the vehicles and truck drivers.
New York Truck Driving Regulations
The state of New York requires drivers to have a commercial driver's license (CDL). The classification dictates the size of the vehicle that the operator can driver:
Class A – Combination Vehicle with a Gross Vehicle Weight Rating (GVWR) of 26,000 lbs or higher with a tow load greater than 10,000 lbs.
Class B – Combination or single vehicle with a GVWR of 26,000 and a maximum tow load of 10,000 lbs
Class C – All other single or combination vehicles
Drivers who transport cargo across state lines or transport hazardous material must have additional endorsements.
The New York Department of Transportation limits the hours of operation for truck drivers:
May drive a maximum of 11 hours after 10 consecutive hours off duty.
May not drive beyond the 14th hour after coming on duty, following 10 consecutive hours off duty.
May not drive after 60/70 hours on duty in 7/8 consecutive days. A driver may restart a 7/8 consecutive day period after taking 34 or more consecutive hours off duty.
Drivers must also keep a logbook documenting their trips and hours of operation.
Federal Trucking Requirements
The New York state hours of service regulations mirror the federal limits. The Federal Highway Administration sets the maximum weight at 80,000 lbs gross vehicle weight, 20,000 pounds on a single axle, and 34,000 pounds on a tandem axle.
Violations of these laws can have an impact on the severity of an accident. Overworked truck drivers, for instance, are a hazard to other workers on the roadways. If their logbook doesn't reflect a truthful accounting of their trips, it could impact an accident case.
Common Causes of Truck Accidents in New York
Our attorneys have helped many truck accident victims recover compensation for their injuries and other damages. We have experience handling truck accident cases involving:
Driver fatigue
Speeding
Improper training
Defective truck parts
Lack of maintenance
Overloading of cargo
Unbalanced cargo
Poor weather conditions
Dangerous road conditions
We represent victims of all types of truck accidents including:
Jackknife accidents
Truck rollovers
Wide turns
Tire blowouts
Blind spots
Underride accidents
Lost load
Our attorneys will assess the circumstances of your claim and provide you with guidance on what your options are. We offer a free consultation for victims of truck accidents in New York. An experienced New York truck accident lawyer from our firm will determine how best to go about recovering compensation. We will represent you in negotiations and ensure your best interests are considered and protected throughout the entire process. Our attorneys will represent you in court if a reasonable settlement cannot be reached during the negotiations. Contact us today and begin the journey to recovering compensation for your injuries and other damages. 
Damages Available in a Long Island & Suffolk County Truck Accident Lawsuit
Our experienced New York truck accident attorneys will work tirelessly to calculate all of your costs and losses related to the truck accident. Successful personal injury plaintiffs are entitled to economic and non-economic damages caused by their injuries. Economic damages are the quantifiable damages caused by accidents. Non-economic damages cover intangible harms caused by the victim's injuries, such as pain and suffering. At Harrison Law Group, we can help you pursue compensation for all of the following:
Past and future medical bills
Property damage
Lost income
Diminished earning capacity in cases of disfigurement or disability
Pain and suffering
Punitive damages when the defendant engaged in egregious behavior
Economic Damages
These are the damages for which we can readily assess a monetary cost. A doctor's bill, for instance, has a specific dollar amount, Wages lost from missed work can be easily calculated. Economic damages include medical expenses, costs involved in rehabilitation, lost wages, and property damage.
Non-economic Damages
No one wants to be in an accident and merely get reimbursed for their bills and lost wages. If you've been in an accident with a commercial vehicle, you may be experiencing physical pain, emotional trauma, and you may suffer from diminished capacities for the rest of your life. Of course, you want the bills paid for, but you're also entitled to pain and suffering damages these intangible costs.
Proving Liability in a Truck Accident Lawsuit
We will carefully examine any negligence on the truck driver's part, ranging from the records drivers must take to the reports trucks and motor carriers need to maintain. We will move quickly after the truck accident occurs to ensure evidence and records are preserved. When necessary, we will seek court orders to gain access to the wreckage and demand carriers turn over the "black box" record of the accident.
One of our attorneys will gather any additional data you need, including in-cab video systems. Our law firm knows how to seek the assistance of crash reconstruction consultants. Forensic specialists will create detailed reports, allowing witnesses to provide expert testimony as to the cause of the truck accident. At Harrison Law Group, we will carefully investigate your claim to determine which party or parties are liable for your injuries. One or more of the following parties may be liable for your injuries:
The truck driver
The trucking company
The cargo loading company
The truck manufacturer
The mechanic
A third-party driver
The manufacturer or distributor of defective truck parts
Holding Trucking Companies Accountable
If you or your loved one have been injured in a truck accident, you can pursue compensation through an insurance claim or a personal injury lawsuit. If the truck driver's negligence caused the accident, the victim could seek compensation from the truck driver or truck driver's employer's commercial insurance policy.
You will benefit from working with an experienced attorney who will negotiate aggressively with the insurance company to recover the full amount of compensation you deserve. You can also pursue compensation through a personal injury lawsuit against the defendant or defendants. You will need to bring the lawsuit to civil court, and you will be able to seek economic and non-economic damages through your truck accident lawsuit.
Contact Harrison Law Group P.C. for Free Consultation with a Top-Rated Long Island Truck Accident Lawyer 
For years, the Harrison Law Firm has pursued accident claims against truckers and their insurers. If you've been injured in a truck accident, you're entitled to damages for your bills, lost wages, and your pain and suffering. The lawyers at Harrison Law Group P.C. have experience dealing with trucking companies and insurance companies. We will fight to protect your rights to compensation and hold those responsible for your accident to account. Contact us to book a free consultation with a top-rated New York truck accident lawyer from our firm.
★★★★★

Brett and Kristi are the best. Very professional. Any questions at any time weekdays or even weekends they always responded right away. When you become a client they treat you as if you are a family member of theirs. Brett will fight to get you the money you deserve from your lawsuit. I'm very happy with Harrison Law Group!! I highly recommend them.

Sofiarose G.
Frequently Asked Questions about Truck Accident Claims in New York
Why are accidents involving large trucks different from collisions involving only two passenger trucks?
-
An accident involving a truck and a passenger car will often involve a lot of damage and injuries resulting from these accidents are often severe. There is therefore a lot of money involved in these cases.  Trucks are also subject to different regulations. Trucking companies also have their own particular systems to handle accidents. This may further complicate your case. It is critical to have professional representation to navigate complexities you may come across in making your claim.
Should I speak to the trucking company representatives?
+
Does the state of New York limit damages for trucking accidents?
+
Is there a statute of limitations for accident claims?
+
How are New York truck accident lawyers paid?
+