Long Island Slip and Fall Lawyers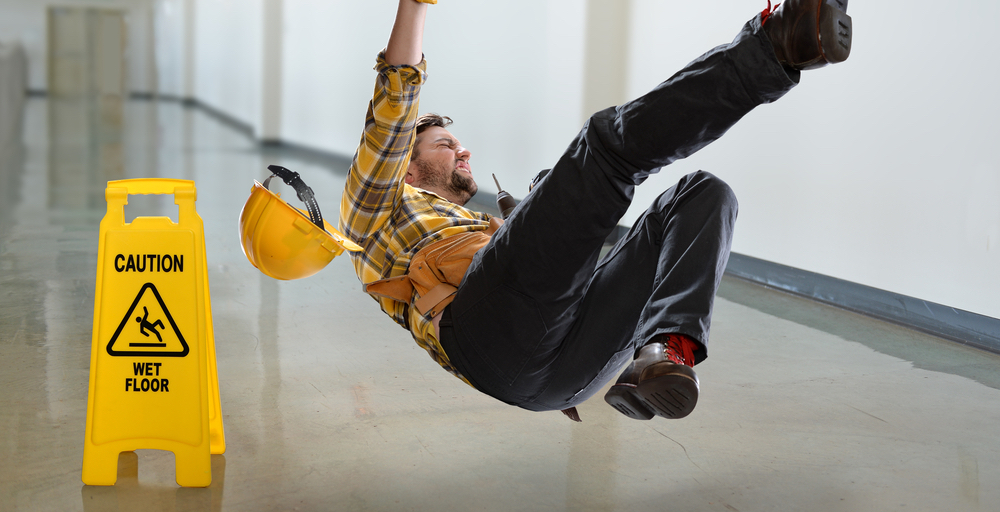 Slip Trip & Fall Accident Attorneys Defend Injured Clients In Suffolk County, Nassau County, and Throughout Long Island
Slip and fall accidents are so common and ubiquitous that many people fail to realize how serious they can be. Of course, the people who experience this kind of accident know the severity of a slip and fall since it can lead to debilitating injuries that can have them convalescing for some time. A slip and fall is classified as an accident, but in most cases, it is an accident that is not the fault of the victim, and it is also an accident that could have been avoided. The reason is that slip and fall accidents are frequently caused by the negligence of someone else. That is why slip and fall victims need to hire a personal injury lawyer as soon as possible after their accident. At the Harris Law Group, we have been helping residents of Long Island with their slip and fall cases for over two decades. Our attorneys have over forty years of combined experience that they use to help Long Island slip and fall victims get compensation to cover their accident-related expenses. That includes medical bills, lost wages, pain and suffering, and more. So contact an experienced  New York slip and fall lawyer at the Harrison Law Group if you have been in a slip and fall accident that was caused by the negligence of another.
Slip and Fall Accidents in Long Island
Did you know that falls are the leading cause of injury-related deaths, ER visits, and hospitalizations? And yet, most falls are not random accidents and are actually preventable. If you or a loved one got hurt in a slip and fall accident, a New York slip and fall accident lawyer will help you get legal redress against negligent facility managers and owners.
Trip and fall cases arise from the fact that property owners owe everyone in their premises a reasonable "duty of care." That means they have a legal obligation to take reasonable steps to avoid acts or omissions that could cause harm to others.
If you trip, slip or fall on premises where there was clear danger and no warning or steps taken to address the danger, you may be eligible for compensation to help you cover the costs of medical expenses as well as any other pain and suffering arising from any injury you suffer.
What Are the Parameters of a Slip and Fall Case?
A slip and fall accident claim is viable when someone slips and injures themselves because of a mistake or oversight made by someone else. That means slip and fall cases fall under the wider legal umbrella of personal injury cases since those types of cases involve people getting injured due to the negligence of another person or party.
However, there are a few more factors that come into play to make a slip and fall a slightly different legal matter than other personal injury cases. Slip and fall accidents fall under the broader legal category of premises liability law. That means the accident happened on property that was owned by someone else, and if the accident was caused by negligence, then the property owner may be held liable.
What is Negligence in a Slip and Fall Case?
Negligence in a slip and fall case comes down to two questions: Who are the liable parties and did their negligence result in the accident? In order to answer those questions, the accident victim and their personal injury lawyer need to prove that the property owner, or someone working for them, either caused or should have noticed the hazardous condition that resulted in the accident and did not take any steps to rectify the problem by fixing it or warning people about it.
A dangerous condition can be anything from spilled liquid that makes the floor slippery to a poorly lit area to a pothole in the sidewalk. If there is a possibility that the condition could lead to an accident, then it can be considered dangerous.
Proving Fault in a Slip and Fall Case
In order to prove fault or negligence in a slip and fall case, the victim needs to prove that the person in charge of the property failed to act in a way that any reasonable person would in addressing the dangerous condition that led to the accident. In doing so, the victim and their legal team must find the answers to some relevant questions that include the following:
Was the hazardous condition present for a long enough time that a reasonably attentive person would have noticed it and done something about it?
Did the person in charge of the property create the dangerous condition?
Did the property owner or manager know about the dangerous condition?
If the answer to any of these questions is yes, then the property owner or manager can be held liable because it can be determined that their negligence was what caused the dangerous condition to occur or persist. You should note that while you are intent on proving that the property owner or someone who works for them was responsible for the condition that led to the accident, they will be trying to prove that you were at fault instead.
Comparative Fault in Slip and Fall Cases
When the property owner argues that the slip and fall victim was partially or completely responsible for the accident, it falls under the legal concept known as comparative fault. Comparative fault comprises two types of laws, comparative negligence and contributory negligence. The one that applies to your case depends on the state in which you live. In states with contributory negligence laws, you cannot collect any damages if it is determined that you are even a little bit at fault for the accident.
States with comparative negligence laws are less harsh because they take the percentage of the slip and fall victim's liability into account and award them damages based on that percentage. For example, if the victim was set to collect $1000 in damages but it was determined that they were 50% responsible for the accident, then they would collect $500 instead. New York is a comparative fault state so you can still retain a slip and fall accident attorney in Long Island even if you were partially at fault for the accident.
If you were completely at fault for the accident, then a successful claim is far less likely, so you should consider if any of the following factors apply to your case:
Were you distracted and not paying attention when you encountered the situation that caused you to slip and fall?
Were you legally allowed to enter the place where the slip and fall accident happened or was there a reasonable explanation for why you were there?
Were there clear warning signs informing people of the danger that was present?
If the answer to any of these questions is yes, then you have a much lower chance of receiving any compensation for the slip and fall accident.
Types of Injuries in Slip and Fall Cases
A slip and fall may not seem like a serious type of accident but it can have serious consequences. Some of the injuries slip and fall victims may suffer include the following:
Fractures
Sprains
Concussions
Cuts and bruises
Dislocations
Nerve damage
Traumatic brain injury
These injuries range from mild to severe, which is why a slip and fall accident should never be taken for granted.
How Slip and Fall Accidents in NY Occur
You may not realize it, but many serious fall injuries are the cause of negligence from a third party. It is unfortunate that the very young and seniors over 65 years old are often the ones who suffer the most in slip and fall accidents.
These incidents occur anywhere, including homes, workplaces, sidewalks, government facilities, and sidewalks. They can be caused by any of the following:
Spilled fluids such as oil, soap, and water
Mud and water left on hard floors
Slippery flooring such as tiles
Broken, cracked, or uneven ground surfaces
Broken stairs, banisters, and railing
Ice sidewalks due to poor deicing and lack of warning, among other causes
All these accidents can cause injuries ranging from slight to severe. We have had to deal with cases of lacerations, broken bones, internal injuries, neck and shoulder injuries, head and traumatic brain injuries (TBI), and even spinal cord injuries and paralysis.
Such accidents are tricky because some injuries may not show up until hours or days later. If you have slipped and fallen, go to the ER immediately and get checked out.
Do I Have a Slip and Fall Claim?
As stated earlier, the first thing you have to prove in these liability cases is that the facility owners or managers owed you a duty of care. That means:
You must have been on the property legally and not trespassing, such as shopping in a mall, working in an office, working in a construction site, or walking in a public place
The owner already knew or should have known about the danger on their premises
The owner did not take reasonable steps to fix the hazard or provide adequate warning to prevent accidents
You have injuries or endured pain and suffered coming directly from the accident
The burden of proof on such cases is often a heavy one. It is very important to have first-hand evidence of the scene, witness statements, videos, photos, and any other evidence that you can collect.
If you have had a slip and fall accident here in NY, let the experienced attorneys at The Harrison Law Group, P.C., handle the tough details of your case while you recover. We have over 30 years of experience practicing in Suffolk County, Nassau County, Queens County, and throughout the state of New York, so we have all the resources you need to win.
Why Sue for a Slip and Fall Accident?
If you have suffered a debilitating injury after slipping and falling, it is only right for the party at fault to help pay for your medical bills, pain and suffering you are going through, lost income, scarring, mental suffering, lost earning capacity, loss of enjoyment of life, among others.
More importantly, punitive damages are also imposed to ensure that in the future, the facility owner will take their duty of care more seriously to avoid injuries to other people.
If a loved one died after a slip and fall accident or from injuries related to one, you should press a suit for compensation to cover funeral and burial expenses, medical bills, loss of future income and benefits, loss of love and affection, among others.
What If I Fell on the Job?
If your trip, slip, and fall accident occurs in the course of your work, you are entitled to worker's compensation benefits and possible damages from your employer. That's because employers owe their workers a duty of care including relevant safety training, protective equipment, and taking steps to actively promote your health, safety, and well-being.
For instance, thousands of construction workers fall at work sites due to poor safety. In 2020, OSHA reported 351 fatal falls out of a total of 1008 construction site fatalities. These can be caused by poor lighting, construction debris, badly constructed walkways, failure to set up warning signs, and more.
You can sue your employer for such injuries in addition to your worker's comp benefits. In the case of wrongful death after a falling accident on the job, the family of the deceased is also eligible to press claims.
What A Qualified Long Island Slip and Fall Accident Lawyer From Harrison Law Group Can Do for You
A New York slip and fall accident lawyer is your best bet at getting the necessary compensation after your trip and fall injury. Facility owners always have attorneys engaged to deal with such cases, and their insurance companies will do everything to discredit or lowball your claim.
Here at Harrison Law Group, P.C., we take a very aggressive approach to slip and fall cases. We invest resources to ensure we build a watertight case, including taking witness statements, involving the statements of medical and safety experts, among others.
In addition, you can count on us to offer sound legal advice, professional negotiation skills with the other party's insurer, and fight in court on your behalf to get you the compensation you deserve.
Remember that the statute of limitations for slip and fall accidents in New York is only three years, so you don't have long to deliberate. If you are unsure of your case or feel threatened by the other party, call us at 866-216-7911 and let a formidable New York slip and fall accident lawyer at Harrison Law Group, P.C. fight for you.
The first consultation is completely free!
Contact the Harrison Law Group if You Have Been In a Slip and Fall Accident
A slip and fall is the type of random, everyday accident that no one ever really thinks about until it happens to them. So even though a slip and fall accident is always unexpected, you should contact the Harrison Law Group because we are always ready to help anyone who has suffered such an accident.
Our slip and fall attorneys will help slip and fall victims receive the compensation that they need to take care of any expenses caused by the accident. So do not hesitate to get in touch with us if you have experienced a slip and fall accident in Long Island. We will always be there to give you the help that you need.
★★★★★

Brett and Kristi are the best. Very professional. Any questions at any time weekdays or even weekends they always responded right away. When you become a client they treat you as if you are a family member of theirs. Brett will fight to get you the money you deserve from your lawsuit. I'm very happy with Harrison Law Group!! I highly recommend them.

Sofiarose G.
Frequently Asked Questions About Slip and Fall Accident Claims in New York
Can you represent yourself in a slip and fall case?
-
Yes, you can self-represent and file a claim, argue in court, and negotiate settlements. It is highly recommended to consult an attorney, however, given the complexity of such cases. You will almost certainly be fighting against teams of personal injury lawyers and need to prove:
The defendant owed you a duty of care

The defendant breached that duty of care

That the breach led to the accident, which caused your injuries

That you experienced damages as a result, for which you need to have accurate valuations
How long does it take to settle a slip and fall case in NY?
+